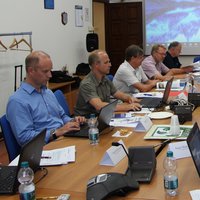 European Marine Board Working Groups, include high-level European scientists and experts nominated by our member organizations, and form EMB's primary foresight and priority-setting tool. The foresight documents resulting from these working groups provide strategic management and scientific recommendations to impact on current and future national and European research agendas. The main target audience are national and European programme managers, and science policy advisors/developers.
We also aim to strengthen particular research domains and consolidate and catalyze/stimulate the emergence of new networks where appropriate, which could lead to new collaborative projects.
All EMB outputs are available to download on the publications page. A brief summary of some EMB activities and their impacts in the landscape are explained in this document (July 2018). You can find out more about the impact of our documents here and about our processes here.
You can explore the activities we currently undertake here and can find out more about our activities in our webinar series.
Since its creation, the European Marine Board has initiated and facilitated over a dozen foresight activities on a large variety of scientific topics:
Ocean observation and research infrastructures