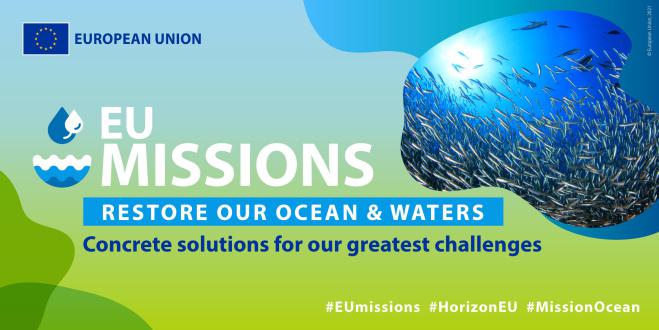 The EU Mission Restore our Ocean & Waters (Mission Ocean) is an initiative of the Horizon Europe research and innovation programme for the years 2021-2027 to help achieve the marine and freshwater targets of the European Green Deal. 
The three objectives of the Mission Ocean are:
       1)      Protect and restore marine and freshwater ecosystems and biodiversity;
       2)      Prevent and eliminate pollution; and
       3)      Make the sustainable blue economy carbon-neutral and circular.
Two enablers will support all three objectives, namely:
       1) Foster a digital Ocean and water knowledge system, including through the European Digital Twin of the Ocean; and
       2) Promote a participatory governance based on public mobilisation and engagement.
Each Mission objective is accompanied by specific targets, that link to EU commitments and legislation (e.g. the EU Green Deal and Biodiversity Strategy 2030). Moreover, the Mission will employ "lighthouses", which are the Mission's sites to pilot, demonstrate, develop and deploy the Mission activities across EU sea and river basins. You can find more about the Mission Ocean in this interactive website.
EMB and its Members support the EU Mission Ocean objectives and enablers. To stay informed about EMB Mission-related activities and events, subscribe to our regular newsletter via this link.