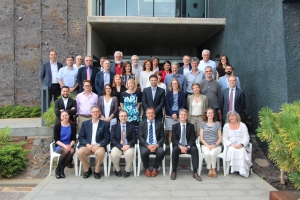 Dates: 26-27 April 2017
Venue: Tenerife, Spain
Host: Instituto Espanol de Oceanografi­a (IEO)
During the meeting, the members voted to accept one new Board member: University of Gothenburg. Erland Moksness was re-elected for a further 2-year term on ExCom, and Ferdinando Boero and Carlos Garcia Soto were elected as new ExCom members, replacing Alessandro Crise and Tarmo Soomere who had completed their full 5-year terms.
The latest EMB Science Commentary on sea-level rise was presented to the Board, as was a new Policy Brief on decommissioning of offshore structures and a Position Paper on marine citizen science. A proposal for an activity on marine ecosystem modelling was accepted.
The launch of activities for the next flagship publication in the Navigating the Future series, number 5 was discussed, as was the next EMB Forum which will be the 6th in the series. Updates were also presented on the ongoing working group on biological ocean observations, as well as on the EOOS initiative.
The open session theme was marine biotechnology and featured the following presentations:
Exploitation of marine microorganisms as a source of novel drugs, Donatella de Pascale
Marine biodiscovery in the Arctic, Jeanette Andersen
Next generation collagen biomaterials – From seabed to the sickbed, Andrew Mearns Spragg
The evening lecture, given by Dorothy J. Dankel, was called "Transdisciplinary approach to inform marine ecosystem-based management: Unifying social science and humanities research in processes of Integrated Ecosystem Assessments".