Outputs
Policy Brief 5, Marine Citizen Science: Towards and engaged and ocean literate society (October 2017)
News release (October 2017) and news article on document publication

Position Paper 23, Advancing Citizen Science for Seas and Ocean Research (May 2017)
News release (May 2017) and news article on document publication
Fact sheet on marine citizen science documents (August 2018)
Impact report on marine citizen science documents (November 2020)
EMB Science Webinar on Marine Citizen Science in Norway (November 2020)
EMB Science Webinar on Marine Citizen Science: Trends and frontier issues (April 2021)
Background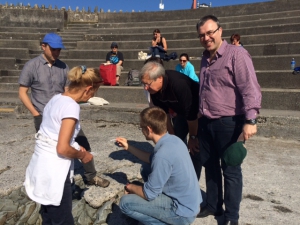 Citizen Science involves members of the public in the observation, analysis and eventually also the design of scientific research. Benefits include enhancing monitoring capability, empowering citizens and increasing environmental awareness. However, research on the process of studying and understanding the best ways to develop, implement, and evaluate Citizen Science is lacking and Citizen Science needs to be acknowledged as a distinct discipline.
Citizen Science has the potential to make significant contributions to marine sciences. Considering the vastness of the ocean, the extensiveness of the coastlines, and the diversity of habitats, communities, and species, and the lack of manpower in marine science, Citizen Science can be a powerful tool for generating scientific knowledge.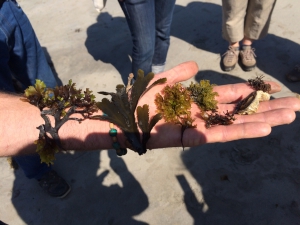 Citizen Science also creates awareness of the challenges facing the world's ocean and increasing Ocean Literacy.
Our foresight activities on Citizen Science provided new ideas and directions for further development of Marine Citizen Science.
The EMB Position Paper (#23) entitled "Advancing Citizen Science in Coastal and Ocean Research" was published in May 2017 and officially launched at a workshop entitled "Citizen Science and the Future of Coastal Monitoring" during European Maritime Day 2017 on 18-19 May 2017, in Poole, UK and can be downloaded here. A Policy Brief to accompany the Position Paper followed and can be downloaded here.

Objectives
Identify common factors of success in Citizen Science programmes
Assess the types of marine data that are amenable to collection or analysis by non-specialists
Provide recommendations on best practice for incorporating Citizen Science into marine research projects, e.g. how to engage citizens and keep them engaged and how to best meet the expectations of both citizens and scientists
Based on the findings, provide overall recommendations for marine research that is most suitable for Citizen Science, provide new ideas and directions for Marine Citizen Science and outline what is needed to support Citizen Science in a marine context into the future
Related activities  
European Ocean Observing System (EOOS) Conference, on 21-23 November 2018, in Brussels, Belgium
The UN conference on 'Transforming for Sustainability', on 28-29 November 2018, in Copenhagen, Denmark
European Marine Biology Symposium, on 17-21 September 2018, in Ostend, Belgium
Second International European Citizen Science Association (ECSA) Conference, on 3-5 June 2018, in Geneva, Switzerland
Second Annual International Conference on Participatory Research, Citizen Sciences and Fab Labs for Peace and Development on 12-13 December 2017, Geneva, Switzerland
Community Science in the Natural World event, on 9-11 October 2017, in Plymouth, UK
Fifth European Marine Science Educators Association (EMSEA) conference, on 7-10 October 2017, in Valetta, Malta
Paper launched at workshop on 'Citizen Science and the Future of Coastal Monitoring' organized by the European Marine Board, on 18 May 2017, at European Maritime Day 2017, in Poole, UK
Meetings
2-3 June 2016, Galway, Ireland
18-19 February 2016, Ostend, Belgium
Members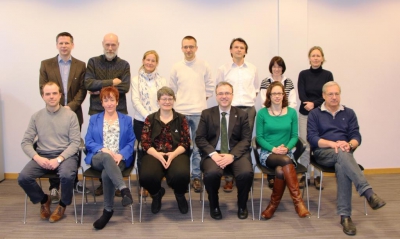 Chair: Carlos Garcia Soto, Spanish Institute of Oceanography (IEO), Spain
Co-Chair: Gro I. van der Meeren, Institute of Marine Research (IMR), Norway
Working Group members:
Oliver Zielinski, University of Oldenburg, Germany
Julia A. Busch, Jacobs University, Bremen, Germany
Jan Marcin Węsławski, Institute of Oceanology of the Polish Academy of Sciences (IOPAN), Poland
Karin Dubsky, Trinity College Dublin (TCD) and Coastwatch Europe, Ireland
Gérald Mannaerts, Muséum national d'Histoire Naturelle, France
Jan Seys, Flanders Marine Institute (VLIZ), Belgium
Christine Domegan, National University of Ireland, Galway (NUIG), Ireland
Patricia McHugh, National University of Ireland, Galway (NUIG), Ireland
Karen von Juterzenka, Kiel University, Germany
Jane Delany, Newcastle University, UK
Gabriel Gorsky, Université Pierre et Marie Curie, France
Francesca Malfatti, National Institute of Oceanography and Experimental Geophysics (OGS), Italy
Additional contributions from:
Géraldine Fauville, University of Gothenburg, Sweden
Pascal Monestiez, National Institute of Agricultural Research (INRA), France
Contact at European Marine Board Secretariat: Paula Kellett Email