Background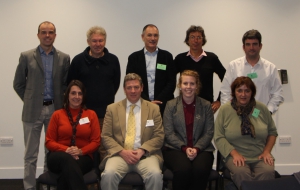 Across Europe a number of Higher Education Institutions (HEI's) have formed distinct consortia to bring together institutions with interests in marine science. Under the auspices and with the support of the European Marine Board (EMB), there is a desire amongst some of these country or regionally based consortia to explore areas of mutual interest with regards to both research and education in the broadest sense.
 
Panel Objectives
The objectives of the EMB Universities Consortium Panel are:
Establish a forum for HEI consortia that exist or are in development to meet;
Help identify and share best practice with respect to the governance and operation of these consortia;
Identify and share opportunities for HEI consortia to collaborate across the EU or internationally;
Promote each other's consortiums both nationally and internationally;
Identify where the respective resources and networks that exist within these consortia can add value to existing and future EMB activities;
Provide a common voice from the Consortium members at EMB Board meetings.
You can read the Terms of Reference for this panel, updated in 2021, here.

Meetings
18 November 2021, Online
7 May 2021, Online
23 October 2018, Trieste, Italy
19 October 2017, Galway, Ireland
27 April 2017, Tenerife, Spain
20 October 2016, Glasgow, UK
28 April 2016, Sopot, Poland
Panel Chair (2021-2022) - Jeremy Gault, Irish Marine University Consortium
Contact at European Marine Board Secretariat: Paula Kellett Email