Impact Report: Next Generation European Research Vessels: Current Status and Foreseeable Evolution
Impact report for Position Paper No. 25, which assessed collaboration and interoperability of the European Research Vessel fleet, taking into account the latest technologies and emerging areas of activity; and Policy Brief No. 7, which summarized the main messages and recommendations fro the Position Paper No. 25.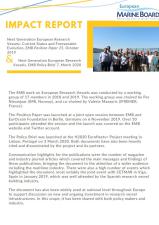 You can download the Position Paper and Policy Brief, and find out more about the Research Vessels Working Group here.