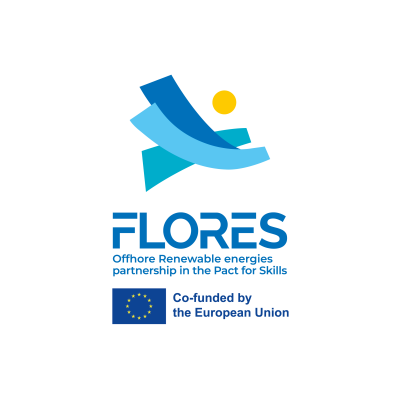 | | |
| --- | --- |
| Project type: | ERASMUS+, Topic: FORWARD LOOKING PROJECTS, Call: ERASMUS-EDU-2022-PI-FORWARD |
| Duration: | 24 months (January 2023 – December 2024) |
| Budget: | €700,000 |
| Consortium: | 15 European partners |
| Coordinator: | CETMAR, Vigo, Spain |
| Website: | |
| EMB role: | Engagement in WP1 "Project management" and WP6 "Communication, dissemination and exploitation of results" |
Background and objectives
FLORES is the first joint project arising from the Pact for Skills for Offshore Renewable Energy (P4S-ORE) Partnership. FLORES was conceived to feed the activity of the P4S-ORE Working Groups. FLORES will contribute with innovative solutions with the potential to be mainstreamed in the sector and its value chain, including maritime sectors such as shipbuilding or maritime transport. The use of the FLORES results by the P4S-ORE members in their capacity building activities and their role as ambassadors is an innovative approach to the ORE upskilling and reskilling processes at EU level. This will ensure the sustainable exploitation of its main project outputs as well as their transferability to different contexts and audiences. As a result, FLORES will promote the use of new instruments from the Skills Agenda, and the continuous application of skills intelligence to promote targeted skills processes in the ORE emerging industrial ecosystem. The FLORES project will also link into other initiatives including the Blue Economy, the EU Green Deal, and the EU Digital Strategy.
European Marine Board role:
EMB will promote the link between the project and the marine science research community, and in particular with the Marine Renewable Energy EMB Working Group, which is developing specific recommendations for policy makers. The recommendations addressing skills will be transferred to, and discussed with, the P4S-ORE within the scope of FLORES. The recommendations made regarding marine graduate training needs in EMB's Future Science Brief No. 2 on "Training the 21st Century Marine Professional" will also be transferred as appropriate. EMB will also support dissemination and communication of the project and its outputs.
You can sign up for the project newsletter here and follow the project on Twitter and LinkedIn.
Contact at European Marine Board Secretariat: Paula Kellett Email