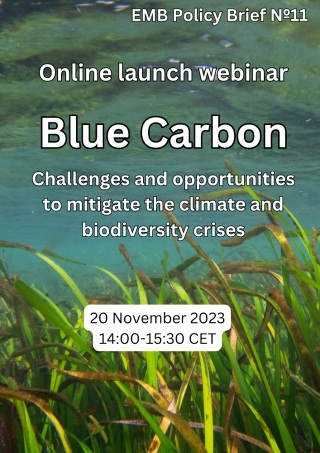 Blue Carbon ecosystems are a Nature-based Solution that can help mitigate the climate and biodiversity crises, while stabilising livelihoods, protecting coasts, and supporting other societal needs such as food security from the Ocean. EMB Policy Brief No. 11 "Blue Carbon: Challenges and opportunities to mitigate the climate and biodiversity crises" describes different types and benefits of Blue Carbon ecosystems, and discusses uncertainties and challenges for using Blue Carbon ecosystem as a climate change solution. The document also highlights the wider role of the Ocean in mitigating climate change through the carbon cycle, and closes with key research and management recommendations.
In this webinar, the document and its main messages were presented, followed by a response by the European Commission, and a panel discussion with Q&A from the audience.
You can access the webinar agenda here, download the PowerPoint slides here and watch the recording here.
More information about the EMB Working Group on Blue Carbon can be found here.
Image credit: K Miguel Urquizo Richmond