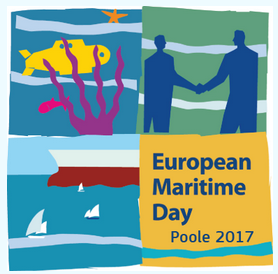 The annual European Commission-run European Maritime Day will take place on 18-19 May 2017 in Poole, UK. European Marine Board will be hosting a 90-minute workshop at European Maritime Day, running from 15:15-16:45 on Thursday 18 May, on "Citizen Science and the Future of Coastal Monitoring". This workshop will introduce Citizen Science and promote best practice in Marine Citizen Science initiatives and data collection to support marine management and policy, and to promote Ocean Literacy.  The workshop will also be the official launch event for the new Position Paper.
The workshop will feature three speakers from the EMB Working Group on Citizen Science -  Gro I. van der Meeren (Co-Chair), Jane Delany and Julia A. Busch, as well as Jon Parr from the Marine Biological Association and coordinator of the H2020 Sea Change project, of which EMB is also a partner. The workshop will be chaired by EMB Executive Director, Niall McDonough, and will include significant audience participation and panel discussion.
This presents an ideal opportunity to launch the latest addition to the EMB Position Paper series. Number 23, "Advancing Citizen Science for Coastal and Ocean Research", aims to provide new ideas and directions to stimulate further advancement of Marine Citizen Science.
EMB will also have a strong present throughout the event via an exhibition stand.
The European Maritime Day 2017  involves both an exhibition and a 2-day conference, with interactive workshops on the themes of "Innovation & Growth", "People & Skills", "Safety & Security" and "Sustainability & Governance" forming a major part of the conference.
Registration for the European Maritime Day 2017 event is still open.