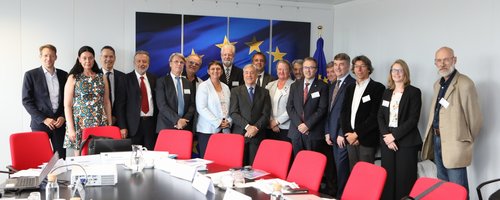 After two successful meetings on 2 March 2016 and 8 July 2016, heads of several EMB member national ocean research institutes are discussing with  Commissioner Vella their perspectives on the recommendations from the SAM High Level Group report Food from the Oceans, and on how to bring research outcomes closer to market. In addition, an update on European ocean observation, the preparations for the United Nations Decade of Ocean Science for Sustainable Development (2021-2030), and future marine research priorities for the upcoming EU Research and Innovation Framework Programme Horizon Europe, are on the agenda  for discussion today.
12 representatives of EMB Member Organizations, including the EMB Chair Jan Mees (VLIZ), attended together with representatives from the European Commission DG Maritime Affairs and Fisheries, and DG Research and Innovation. The EMB Secretariat was represented by Executive Director, Sheila J. J. Heymans and Senior Science Officer, Kate Larkin
The meeting with Commissioner Vella marks the third in a series and is an important platform for the ocean research community represented by EMB to communicate directly with the Commissioner on ocean research issues.