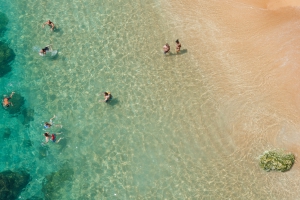 We are delighted to announce that EMB will be participating in a new Horizon 2020 Framework Project to further research into the links between Ocean and Human Health. Led by the University of Exeter Medical School and with 2 million Euros of funding, the Seas, Oceans and Public Health in Europe (SOPHIE) project launches in December 2017 and will run for 2.5 years.
The project will deliver a clear road map for the future direction of Oceans and Human Health research in Europe, and builds on the recommendations of the European Marine Board Position Paper on "Linking Oceans and Human Health" and the calls outlined in the Message from Bedruthan. It also aims to build a diverse network of stakeholders across Europe involved in Oceans and Human Health, and to create a legacy that will advance this field across the world and beyond the end of the Project.
SOPHIE will explore the complex interplay between the health of the marine environment and that of humans, and through a series of forums and events, aims to build a network of researchers and practitioners from two traditionally distinct groups; marine and maritime specialists; and the medical and public health community.
The project consortium includes 8 partners from academia, small and medium sized businesses, and government, with the team holding particular expertise in developing and implementing public health and environmental policies. More information will be posted online in due course. A press release with more details can be downloaded here.